Back in the 1970's WLHA really had only 2 studios – a small on-air studio and a somewhat larger production studio. The modern version of WLHA has studios all over the US and in the UK. In this series we will explore the wide variety of equipment and configurations of our various studios.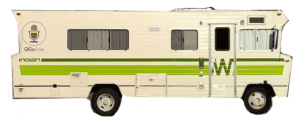 We'll start with what is certainly our most exotic studio – the WLHA Winnebago Studio commanded by News Director James Copeland. Located in a 1975 Winnebago motorhome, these studios allow James to broadcast from wherever he may be.
In addition to serving as WLHA's official newsroom on wheels, the Winnebago is fully equipped with a state-of-the-art 1980s era amateur radio station that enables worldwide communication through various ridiculous antennas on top of the motorhome. International teletype, Morse code, and weatherfax press broadcasts can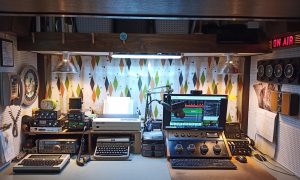 be received here. In addition, the station is capable of transmitting on several modes including FM, AM, CW, single sideband, radioteletype, packet and more. A WWII era US Navy mill (typewriter) rounds out the collection. Other curiosities include a working landline wall phone, a Heathkit weather station and speakerphone, and of course an on-air light to let guests know when a broadcast is taking place.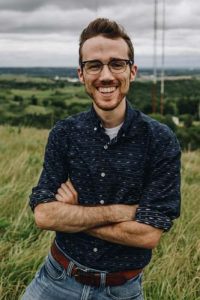 When all our other studios fail – this one will keep WLHA on the air from wherever it may be.
Hear James Copeland's news at noon weekdays and his weekend show on Saturdays from 7 to 11. Follow his adventures on the road at TheRadioNomad.com
More Posts for Show:
James Copeland