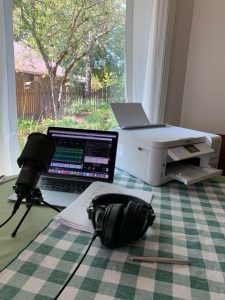 In our previous episodes we've seen some pretty elaborate studios, or at least studios crammed full of old radio broadcasting gear. Peter Bolger takes a different approach to his studio design. He's a firm believer in minimalism. His Beaverton, Oregon studio doubles as the dining room table when he is not broadcasting. His rig consists of a MacBook, an Audio-Technica USB mic and a pair of Audio Technica headphones. The printer is so Peter can keep track of what he is playing.
And technically his show sounds identical to all the other shows at WLHA. Peter says despite being in the alcove of a great room the acoustics are not horrible. It is all rather amazing and speaks to the versatility of the new WLHA and 21st century radio broadcasting in general.
Then again people are shooting Hollywood movies on iPhones so maybe we should stop being so impressed by ourselves. No, we're impressed. Thanks for inviting us over Peter. In our next episode we will visit the somewhat more involved facilities utilized by Peter's uncle Tom down in Studio BB (Bolger's Basement) back in Madison.
More Posts for Show:
Peter Bolger