The Buckinghams played the Performing Arts Center in Middleton Saturday night and WLHA was there in force, after helping to promote the show.  Special Correspondent Casey the K brings us up to speed:
It was a very fun concert last night and WLHA was well represented. From the front row of the Mezzanine, Radio Doctor and Nurse DJ,  Pilot Jim Hermanson, Nivek and I enjoyed an evening of great music.  And as a bonus, WLHA even got a few moments in the spotlight.
As the concert started, Carl Giammarese, lead singer, was doing the opening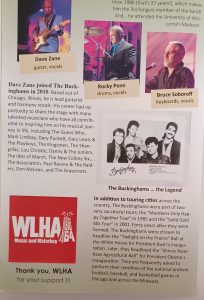 banter with the audience before the first tune, and he surprised us when he said something along the lines of  "It's great to be here, and hey, I want to thank the morning guys at WLHA radio for hosting a fun interview with us. They should be here in the audience tonight.  Casey and Nivek, are you out there guys?"  So Nivek and I stood up and waved to the crowd.
That's not all.  They had printed our WLHA logo with a "Thank You WLHA" on the back page of the concert program handed out to everyone.  Very nice!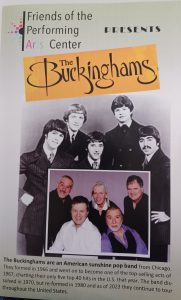 So, at intermission and after the concert, this attention triggered a few curious people to come up to us and ask about the station.  Red WLHA cards got handed out and we made a few new friends.  One woman walked up and enthusiastically asked, "Is this the same station I used to listen to on the built-in wall speakers when I was a U.W. student in Liz Waters dormitory?"   Yup!  That's us.  That certainly made us smile.
We spent some time talking with Carl and the rest of the band after the show and learning about various other combined tours with other 1960s/70s bands that would appeal to our WLHA audience.  I suspect that we will be getting involved in more regional concerts.