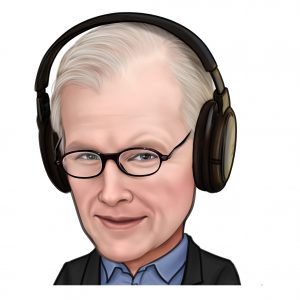 Show Times
Timezone
:
CDT
[UTC-5]
Sat:
Sun:

*

Encore Presentation
About the Show
Tom Bolger, host of Saturday afternoon's Tunes with Tom program, began his broadcast career in 1951 on WRTC in Hartford, Connecticut. WRTC was affiliated with Trinity College. The station was what they called a "wired meant that the statiwireless" which on actually broadcast on airwaves and wasn't restricted to the confines of the college's campus. Periodically the students would increase the power of the operation until it reached about 100 watts. Situated at 640 on the dial meant that the station was heard throughout the central Connecticut area .
The station was closed down by the FCC in about 1957 after Tom had graduated and left the station for a career in broadcast management. During his tenure at the station Tom was the manager and also a director of the Intercollegiate Broadcasting System (IBS).
Tom's next step in the field was graduate school at Syracuse University and then the job of Promotion Manager at WSAU-TV in Wausau, WI. Tom was with WSAU for 30 years, and during that time the operation became Forward Communications Corporation and grew to 6 TV stations, 12 radio stations, a daily newspaper and an electronics company. Tom also advanced during this period to become the President and Chief Executive Officer. The company was sold to Wesray in 1984. Tom retired in 1985.
After Forward, Tom continued in broadcasting serving on the Board of Directors of Shockley Communications and was Acting CEO of Farraguat Communication with TV stations in Yakima, Washington, and Salt Lake City, Utah.
During his career Tom served on a number of Broadcast Organizations. He was Chairman of the Board of the Broadcast Education Association (BEA), Madison Advertising Federation, Wisconsin Broadcaster's Association and National Association of Broadcasters.  He served as a Director on the TV Bureau of Advertising, BMI and the Television Information Office.
The last Tunes with Tom broadcast was in 1955 , when Tom graduated. For 65 years the program was on hiatus. That was until WLHA gave him a chance to resume where he left off and bring back the tunes of the 50's.
He long harbored the though of doing what he loved, entertaining people with a radio program.  One highlight in Tom's career is being considered for the Guinness Book of World Records for being the oldest DJ with a regular program.  Tom is 87 .