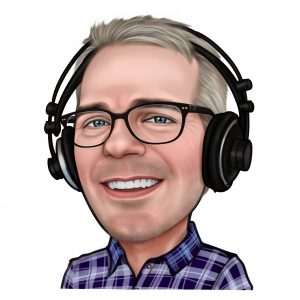 Show Times
Timezone
:
CDT
[UTC-5]
Thu:
About the Show
A native Madisonian, my interest in radio broadcasting began as a listener to the big Top 40 personalities at WOKY, WLS, WIND and local WISM. At age 12 I soldered together a small one tube phono oscillator AM Transmitter Kit. I connected it to a wire out my bedroom window into the backyard with nearby neighbors as my first listeners. A few years later, FM was added with help from a new FM Wireless Science Fair Project Kit – $6.95 at Radio Shack. The station remained operational in various forms as WBBH, WGS and WCGM through my college years.
In 1980, while employed full time at a local TV repair shop, I scored my first real radio station job working part time Sunday noon to 6 at WIBU AM 1240 Poynette, Wis. It was Top-40 with NBC news, plus "rip and read" off the wire printer. I remember when the Mt. St. Helens disaster came across and I read it on the air to a stunned rural audience, which included cows outside the studio windows.
A few months later, I worked weekend overnights 2 to 6 at WISM 1480 Madison, Wis. Even though the hours were late I was younger then, and Clyde Coffee brought donuts every morning at 5:30. Here I was on a major 5000 watt station with a tight format, a 21/7 newsroom (they took a few hours off), and all the other hip staffers. But those turned out to be the fading years of Top 40 AM, soon to make the slow transition to talk radio.
I stayed there part-time until 1986, with a short stint in 1983 to Z104, back when they were out by one of the tall towers on the west side of town. After joining the Engineering staff full time at WISC-TV 3 in 1986, I had not done any radio until my involvement with WLHA began in 2016 on the Halloween live show. In 2020, I joined the regular air staff with a Thursday night show at 6. It is a great privilege to be on real Top 40 personality radio again!