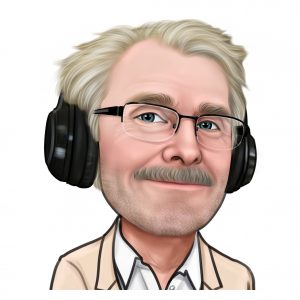 Show Times
Timezone
:
CDT
[UTC-5]
Mon:
Tue:
Sun:

*

Encore Presentation
About the Show
It was 1955 and, aged ten, I found my calling!… After hearing Heartbreak Hotel by the the man with the strange name ( Elvis was an odd name, at least to British ears,) but the music was just amazing. It was to be the foundation of my life. By the age of sixteen, I had become a reasonably good guitar player and joined a rock 'n' roll group playing local clubs and pubs.
In 1964, an historical event occurred which captured my interest and imagination in gigantic proportions. An enterprising Irish man, Ronan O'Rahilly fitted out a ship as a floating radio station, anchored it just outside British territorial limits and began blasting top 40 radio to the nation, much to the dismay of the BBC, who held a monopoly in radio and TV broadcasting at this time and rock 'n' roll playlists were a huge No No.. Radio Caroline had arrived and, within weeks, was hugely popular.
I was hooked!… Intrigued by the slick delivery style of the mainly North American DJs, I grew more and more eager to become a disc jockey and would practice, with my tape recorder, the smooth flowing patter formula these guys were following. My main influence was a Canadian jock, Don Allen whose professionally casual style and sense of humour blended perfectly.
To develop my skills in the art of record spinning, I worked for several years as a club DJ, but always in the style of a radio jock – talking up vocals and playing snappy edited PAMS jingles.. By 1968, it was too late to fulfil my ultimate dream of working on Caroline. The British government had introduced maritime laws to outlaw the Pirate Stations (There were thirteen pop stations around the UK at this time) . Caroline couldn't survive and was towed away by creditors. The BBC did introduce a 'replacement' pop radio service, but it was far too restricted and strangled by bureaucracy to be an answer to Caroline.. It didn't 'float my boat'.
With nowhere to go as a radio DJ, I decided to start my own station within my imagination.  I built myself a bedroom studio, the audience would be the imaginary part. Radio 77 was born, modelled on         newly acquired air checks of legendary New York station 77WABC. Disc jockey, Dan Ingram was another influence. 77 became a part of my life and a way of life for decades.
'Google' Deke Duncan Radio 77.. Then fast forward to 2020.
I get a call from Casey The K at WLHA, Wisconsin.. "Would you like to join our on air team?" …WLHA, an American radio station, practically – stroke for stroke –  identical in presentation to Radio 77, but for real.